This blog was originally written by Tegan Palmer, GSMA's Senior Manager, M&E, M4D Programme Services, Samuel Ajadi, Senior Insights Manager and Simone Hinrichsen, Insights Manager and published on the GSMA website.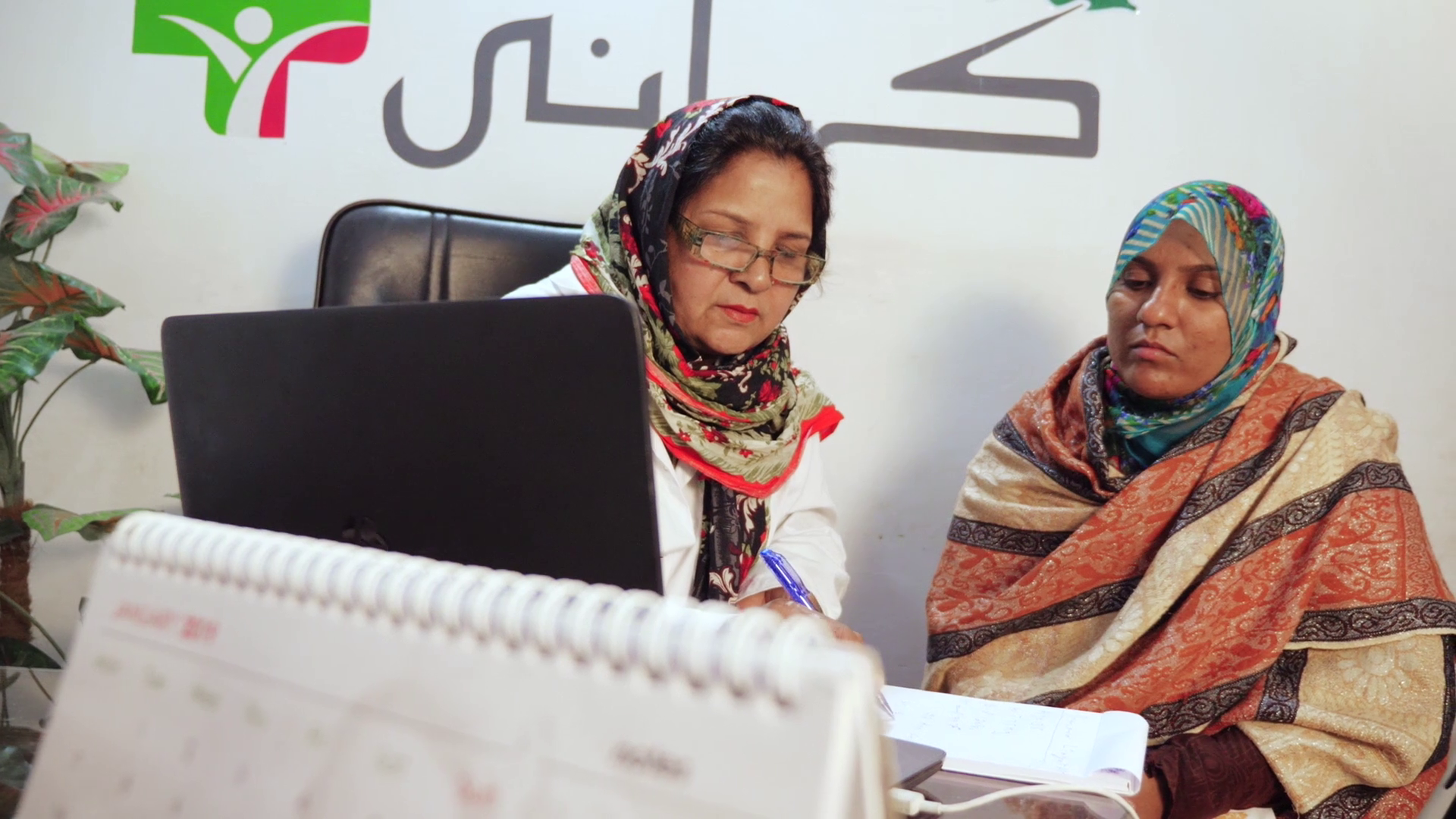 Sehat Kahani received a grant from the GSMA Ecosystem Accelerator Innovation Fund in February 2018 to deploy their health technology in six clinics that support 120 community health workers. Each of the six clinics acts as a referral point for patients who need further consultation and treatment. As of January 2020, Sehat Kahani's 26 e-health centres have facilitated over 120,000 successful consultations. In 2019, the GSMA conducted research with Sehat Kahani users which confirmed that its e-health clinics are improving women's healthcare access and experience in Pakistan.
In the face of the COVID-19 outbreak, the Sehat Kahani team is taking further action to support Pakistan's healthcare system. We spoke to Dr Iffat Zafar, co-founder and COO of Sehat Kahani, at a recent online panel discussion that Sehat Kahani was part of, hosted by Max Cuvellier, the head of Mobile for Development. This blog incorporates responses from that panel session and other discussions with Dr Iffat.
The GSMA: What has the impact of COVID-19 been on Pakistan?
Dr Iffat: Pakistan has also become affected with the virus with a current diagnosed number of more than 89,249 and 1,838 deaths till now and this number is on the rise. In this situation, all forms of social interaction have been strictly prohibited in Pakistan. An already fractured and fragmented healthcare system in Pakistan is struggling to meet the increasing needs of patients being screened for coronavirus every day, while the regular outpatient departments of hospitals have been shut down.
Patients are scared to go to the hospitals to avoid exposure. The elderly are isolated and confined within their homes. Children and pregnant mothers are unable to find doctors in cases of emergencies. In this time of national crisis, the technology of telemedicine is playing a pivotal role in acting as an enabler to help many patients in need. Sehat Kahani has been very active in this crisis.
The GSMA: How has Sehat Kahani been affected by COVID-19?
Dr Iffat: The interesting thing is that we officially launched a mobile app last year in November and as COVID-19 started, we have had an immense jump in the usage and the consumption. For example, we were having 50 – 60 consultations in a day, but now it has jumped to 500 – 600 consultations.
We partnered with Digital Pakistan, a government entity which is focusing on solving the coronavirus crisis using technology, with Sehat Kahani as one of their key enablers. The Sehat Kahani app will connect any patient who is in need of advice, counselling and education on COVID-19, to qualified PMDC-licensed female doctors, 24/7. This service is offered free for users until 31 July so that as many patients as possible can connect to a female doctor while maintaining social distancing, isolation and quarantine. So far, Sehat Kahani doctors have conducted more than 32,000 online consultations, of which 15 per cent were referred as suspected COVID-19 cases. The follow-up rate is around 24 per cent.
Through this app, we are providing consultations to patients for ailments for which they cannot reach out to a hospital. We are also screening suspected COVID-19 cases which are then being referred to their nearby, government-identified COVID-19 screening centres. We are also being contacted by other governmental, non-governmental and corporate partners to provide access to healthcare. In order to meet this demand, we have recruited a large number of physicians to meet the need in this crisis situation, while our tech team is working tirelessly in this effort to support the national healthcare infrastructure. The current COVID-19 crisis has created a lot of fear globally, but at the same time it has also generated a common air of empathy worldwide as everyone understands the severity of the problem. We all are in this fight together no matter where we may be based. My heart goes out to the families of people who have lost their lives in the current pandemic.
The GSMA: How do you make sure your service will cope with the increased demand?
Dr Iffat: This has certainly been a challenge. From the 150 – 200 doctors we already had, we had to suddenly recruit another 100. It's more like managing a virtual hospital. Since the world is taking a financial toll it becomes very challenging for start-ups, particularly who are working in HealthTech, to be able to maintain and sustain the services while being able to motivate employees.
We have 100 more doctors on the app and almost 60 per cent of these are on a paid stipend, but the rest are volunteers. The positive outcome is that there has been a lot of support from our partners who understand that this is going to take some financial toll. Major investors and funders are also looking to support it. It's going to take time but I have seen a positive response – all of them are willing to innovate quickly to be able to support the COVID-19 crisis.
Secondly, we have been in touch with so many doctors who are willing to give back to Pakistan on a voluntary basis. They don't want to be paid; they just want to give back to Pakistan in any way that they can. There's a government initiative we have partnered with called Yaran-e-Watan,where we invite physicians and specialists based in the diaspora who are of Pakistani origins to connect back to our platform. The response has been good and I always believe that whenever there are challenges, ways are also formed somehow out of nowhere.
The GSMA: How do you vet doctors? How do you make sure that the people who register as doctors are actual doctors?
Dr Iffat: There's a central body called the Pakistan Medical and Dental Council. They license doctors. What we do is confirm all licenses of the doctors that we get on board from PMDC. Apart from that all of the doctors that we get need to have a minimum experience of three years and should not be out of the workforce for more than three years if, for example, at this current point they're not practicing. We also have our own training that every doctor has to go through. It is a rigorous 18 module training process which enables them to be able to practice primary health through telemedicine. We have also created an in-house quality assurance team whose role is managing how the doctors are being trained, how they are conducting the consultations and the sessions.
The GSMA: How do you make this service accessible to people who might not have access to a smartphone or access to the internet?
Dr Iffat: This is a valid concern that we had in mind when we launched the mobile app. Pakistan has a population of 200 million people, with only 75 million smartphone users so it's not even 50 per cent of the population. So, we created a helpline backed by a team of nurses and doctors, and the idea is that the nurses can create a triage process. They're provided with an algorithm and a protocol and patients can then, based on their needs, be connected to a doctor. We did a pilot, now we're looking for sponsors who can facilitate us in really taking this up.
The GSMA: How do you make sure that you don't compromise on data privacy?
Dr Iffat: We built the app to be HIPAA compliantand we developed this with one of the leading tech companies in Pakistan, who ensured that all of the data is going to be strongly encrypted. And even us as a start-up and I as a company founder cannot access it.
The GSMA: How will you go about understanding the impact of what you've done in this time of crisis?
Dr Iffat: We're getting some amazing testimonials. For example, we had a pregnant woman calling in who did not know that she was in labour as it was her first baby. She called up our doctor who suggested that this is an emergency, so she was rushed to hospital. Then we got two COVID-19 patients who went through screening and tested positive. They were quickly sent to hospital. Not only are we getting a lot of testimonials showing how patients felt they got something of great value, but in terms on quantitative numbers, we're looking at the follow-ups. The follow-up rate is amazing. It's around 25 to 30 per cent at this point. 30 per cent of the people are calling back.
The GSMA: Are you seeing a change in how your revenue structure is defined?
Dr Iffat: Yes, initially we had a completely paid model where people subscribed and paid per consultation, or took a package for an annual pool of consultations – now people are getting it for free. This has built a good pool of beneficiaries and downloads, which we believe will add a lot of value. This is what has happened on the business to consumer (B2C) front.
On the business to business (B2B) front, there was a lot of inertia before COVID-19 when we were reaching out to corporates for the telemedicine platform so they had a lot of queries. Right now, we have jumped from having nine corporations to 38 corporations. All of them are interested in getting the mental health component for their employees. For our corporations, we are proposing that you can have this service for free. That has helped us build a good mass of corporations.
You can find out more about how mobile technology is solving development challenges in our blog.
You can also see how Sehat Kahani operates outside of the crisis in our other resources.
Sehat Kahani was supported by the Australian Government through the GSMA Ecosystem Accelerator Innovation Fund and the Scaling Frontier Innovation program.