Preparing young people for the future of work
---
While new technologies can generate jobs and increase labour productivity, it also creates job displacement and widens the skills gap. Today's generation of young people now face a world in which nearly half of today's jobs globally are at risk of becoming obsolete due to automation and technological advancement in the coming decades.
In May 2017, the Minister for Foreign Affairs announced that the Department of Foreign Affairs and Trade (DFAT) was partnering with the Massachusetts Institute of Technology (MIT) Solve initiative and the Atlassian Foundation on the Youth, Skills, & the Workforce of the Future Challenge.
The challenge, led by MIT Solve, set out to source innovative tech-based solutions from across the world, capable of preparing disadvantaged youth for the workforce of the future.
DFAT and the Atlassian Foundation then selected some of the most promising early-stage innovations and provide support to rigorously test their ideas.
Youth, Skills, & the Workforce of the Future Challenge – Solutions
In September 2018 it was announced that DFAT and the Atlassian Foundation would continue to fund a number of the solvers to scale up their successful initiative to have a greater impact in their respective fields.
Department of Foreign Affairs and Trade (DFAT) Indo-Pacific Development Prize winners – Phase Two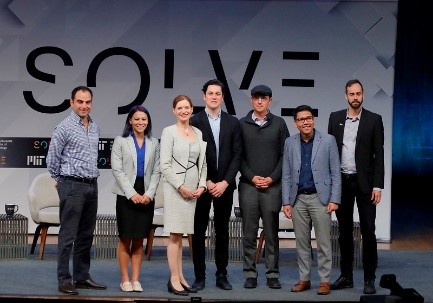 40K Plus
40K PLUS couples content available offline through a learning platform on tablet, with a "flipped" classroom to provide a dynamic experience with proven learning outcomes.
Baan Dek Foundation - The Digital Superheroes Academy
The Digital Superheroes Academy teaches critical thinking, life skills, and soft skills to children as "superpowers," through an open-source application with an engaging superhero theme. This app will be used by vulnerable children throughout Southeast Asia, with all content available in their own languages.
Ruangguru - Ruangguru Digital Bootcamp
Ruangguru Digital Bootcamp is an intensive learning support program to prepare dropped-out underserved youth population in Indonesia to pass (high-school) standardised national exams and to acquire relevant employable skills using accessible technology.
The Rumie Initiative - A Books to Bytes Revolution for Youth Employment
A Books to Bytes Revolution for Youth Employment is a non-profit organisation with a mission to bring free digital learning resources to communities least able to access them. The solution is twofold: offline, low-cost tablets, and the Learncloud – an online repository of free digital learning content.
Peripheral Vision International - Wanji Games
Wanji: Gamified Narratives Delivered through Basic Telephony provides interactive learning through spoken audio. This allows a geographically remote audience with limited literacy access to salient information in their own spoken language through appropriate technology.
WeRobotics – South Pacific Flying Labs
South Pacific Flying Labs localises appropriate robotics solutions (including drones) in the Global South through our Flying Labs in Asia, Africa & Latin America. These labs provide training, lead projects and create local jobs & start-ups focused on Robotics Services.
What's Next?
Understanding the effectiveness of this partnership and the value it offered to the solvers was a priority for both DFAT, Atlassian Foundation and MIT Solve. As such, an independently commissioned report was produced exploring the first two phases of the program. This report will be used in preparing for a phase three of this program in 2020.