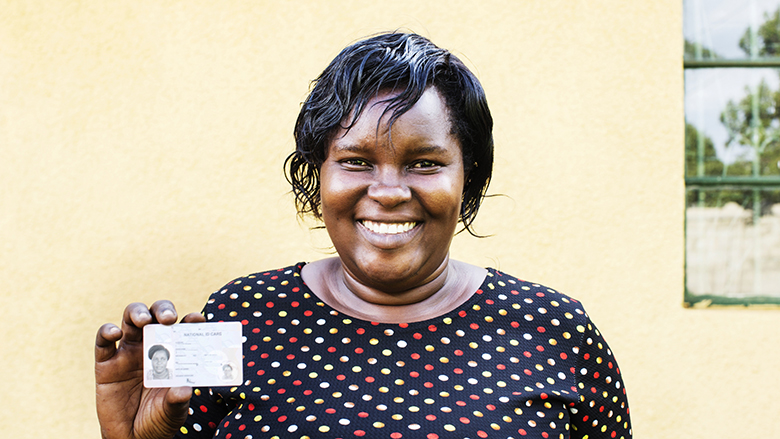 Commonwealth Digital Identity Initiative
You need an ID for almost everything you do. Opening a bank account, enrolling in school, voting in an election, activating a SIM card, applying for a job, registering a business and receiving health care or social benefits. The ability to prove your identity is crucial to fully participate in society and democracy.
However, one billion people worldwide do not have access to an official form of identification and 50% of them live in Commonwealth countries. Women are more likely to lack an ID than men, particularly in low income countries, where over 45% of women do not have an ID compared to 30% of men.
Governments – 161 countries worldwide – are moving away from face to face, paper-based service offering to quick online services using digital technologies. Smart ID cards, ePassport and digitally stored biometrics are some of the features offered by many governments.
Through the Commonwealth Digital Identity Initiative, we aim to gain an improved understanding of the technological, administrative, legal and socio-cultural barriers that might prevent someone from being able to prove who they are. Through research, analysis and country-level engagement, we will explore how these barriers might be experienced differently by vulnerable groups of the population, with a view to improving access to – and use of – identification systems in focus Commonwealth countries.
What are we doing?
The Commonwealth Digital Identity Initiative is a two-year program, specifically addressing SDG 16.9 which aims to provide a legal identity for all by 2030. The Australian Government is working with world-leading experts from public and private partners, i.e. the World Bank's Identification for Development (ID4D) program, GSMA Mobile for Development, Caribou Digital and the UK Government, address issues around identification throughout the Commonwealth.
The program is being implemented in Commonwealth countries across the Pacific, Asia and Africa and includes the following activities...
Country engagement and technical assistance
Carrying out country-level analysis of identification ecosystems to highlight specific features, legal frameworks and regulatory environments that could help or hinder greater inclusion of women and vulnerable communities
Exploring market opportunities for investment in identification systems
Providing technical assistance in order to support key stakeholders to better understand the strengths and weaknesses of their identification systems and to plan remedial action
Supporting policymakers and regulators to better understand the key enablers of access and use of digital identity systems, particularly for women and other vulnerable users through the design and delivery of a policy and regulatory capacity building course
Research
Generating rigorous evidence of the role of identification systems in achieving development outcomes, through impact evaluations
Conducting user-level research to generate insights on the barriers to adoption and use of official identification systems by women and girls and user experience of the identification process
Showcasing use cases for identification systems in generating social and economic benefits and highlighting country experiences through case study reports
Advocacy and Global Convening
Generating tools and guidance notes for practitioners on technical system design issues, such as how user privacy and control can be incorporated into digital identification systems
Facilitating knowledge sharing activities for country delegations and for mobile network operators to provide practitioners with tangible examples of existing identification systems and enable them to learn from their peers' experience
Convening multi-stakeholder groups to discuss progress made with narrowing both the identity and the gender gap and to facilitate collaboration
Disseminating learnings from user-level and country-level research to inform the operational decisions made by other practitioners in identification sector
"I feel proud when I look at my ID card. It says who I am, that I am Sri Lankan." - Krishanthi, Ratnapura
Why is this important?
Australia's International Cyber Engagement Strategy recognises that digital technologies are profound enablers of sustainable development and inclusive economic growth. Governments and service providers all over the world are moving away from face to face, paper-based service offerings and towards services that are accessed through and facilitated by digital technologies. In addition, in the vast majority of Commonwealth countries, a form of identification is required in order to register a SIM card, meaning that the use of mobile devices is impossible without a formal identity credential or unless accessed through an individual who has such credentials.
In response to these shifts and the growing realisation of the 'identification gap', a number of governments, NGOs and private sector players are rolling-out systems to issue 'smart' credentials to to authenticate the users of their services. As the need for a way to identify oneself becomes more and more important to access a wide range of face-to-face and digital services, it is increasingly crucial to ensure that no one is excluded and that stakeholders respect the privacy rights of the individual. Through country engagements, research and advocacy work, the Commonwealth Digital Identity Initiative will focus on understanding what identification efforts mean for more vulnerable populations and will explore ways to improve the coverage and utility of these systems, while simultaneously respecting the needs, rights and interests of individuals.
Why is this innovative?
Technology for Development: Indo-Pacific State of Play recognises digital technologies present great opportunities for humanitarian and development interventions across all sectors to reach larger populations in more effective and efficient ways. Digital identity along with internet connectivity and digital financial services are considered to be the building blocks of a modern digital economy. With these core elements in place, it becomes easier for governments, businesses and entrepreneurs to innovate further and to find new ways to engage a globally connected population.
Our vision for the future
The Commonwealth Digital Identity Initiative aims to catalyse world-class expertise in order to accelerate progress towards a legal identity for all. While progress has been made, there is still work to do to achieve SDG 16.9 by 2030. By the end of the program in 2020, we hope to have garnered support and commitment from Governments and businesses all over the world to continue advancing the identification agenda with a view to ensuring that no-one gets left behind.