How a social enterprise is increasing teaching time in Kenya's refugee camps.
Sem Joe is a 5th grade teacher at Fuji School in the Kakuma Refugee Camp in Northern Kenya where he has been teaching for over three years. He himself is a refugee from the Democratic Republic of Congo and identifies with the challenges that many of his students face, one of which is access to a quality education.
He says his job is "the best job in the world; when I see the children in my class, I see hope. [Teaching is] transforming society, giving knowledge, giving to our kids."
Over 188,700 refugees live at Kakuma refugee camp and the nearby Kalobeyei settlement; the majority are from South Sudan, Somalia and the Democratic Republic of Congo.
A pressing need for education
Despite the excellent performance of refugee children in Kenya's national examinations, education is one of their most pressing needs, with 213 primary school students to every teacher in Kalobeyei settlement and 95 primary school students to every teacher in Kakuma camp[1].
It's no wonder then that primary school teachers are hard pressed for time. The process of taking attendance alone can be daunting and can take up to 25 minutes, or roughly 40% of an hour of instruction time, as teachers typically call out each student's name and mark road-weary attendance registers, line by line.
For Mr Joe, a typical school day is a fast-paced juggle of lesson plans, reporting, checking which students are present, and filling in for any missing teachers.
Through an initiative supported by the Australian Department of Foreign Affairs and Trade (DFAT),
Removing Barriers to Education for Refugee Children through Enterprise Software (RISE) is building a digital platform that enables teachers to take attendance rapidly, right on their smartphones, freeing up their valuable teaching time. The application works in the remote areas of Kenya's refugee camps, ensuring broad coverage.
RISE is a social enterprise at the leading edge of blending business, technology and design to achieve social impact.
Breathtaking results
"RISE conducted tests of the software platform in January 2019 and the early results are
breathtaking. In an instant, the data collection activities of teachers will be able to automatically
order and reconcile food rations for 60,000 seamlessly," says Sergio Medina, the Founder and CEO of RISE.
Testing revealed that it took teachers on average 50% less time to take attendance using the mobile platform compared to the manual attendance register, resulting in a 12-minute increase in classroom instruction time.
Teachers with 6 classes per day saved more than 72 minutes by digitally marking their register. Considering that there are approximately 20 teachers in one school, the potential time savings gained by using the RISE digital attendance application can be more than a collective 24 hours per day with school-wide implementation.
"A digital attendance system can be transformative, particularly in refugee camps because it provides an electronic infrastructure in an infrastructure-poor setting," says Mr Medina.
After spending three weeks using RISE's digital attendance application, Mr Joe felt it could completely transform his work. The application could eliminate most of the administration work that occupies his mornings and evenings, and the ability to view class registers on his phone means that he could easily view students' attendance records and follow up with them from home. With all of this time saved, Mr Joe would be able to spend more time teaching and planning lessons that are catered to the needs of his students.
"Marking the register [on the app] is my favourite part. The app that [RISE] came up with… is really helping us a lot compared to [having to] go to the class and mark the hard copy. This is very [much] faster than the other way," says Mr Joe.
Improving girls' school attendance
Using principles of human-centred design, RISE ensured local relevance by collecting data on programs that increase school attendance, particularly for girls. This is critical since 40% of primary school students in Kakuma are girls, but they make up less than a quarter of secondary school enrolments[1].
During the pilot initiated with DFAT support, RISE learned that one of the main reasons girls have a low attendance rate is that their families prefer to keep them at home to help with chores. If sending the girl to school means that they have one less meal to source, the parents tend to promote their daily attendance.
Then, once the children are in school, teachers and child protection staff can invest in efforts to reduce other barriers to education like child marriage and access to uniforms, sanitary pads and clean water.
"Our findings showed that increased access to food in school was a force multiplier in the removal of barriers to education for all students; for girls in particular. Therefore, applying principles of human-centred design, we adjusted some of the core functionality of the software to include an automated meals reporting system," says RISE's software engineer Necoline Hubner.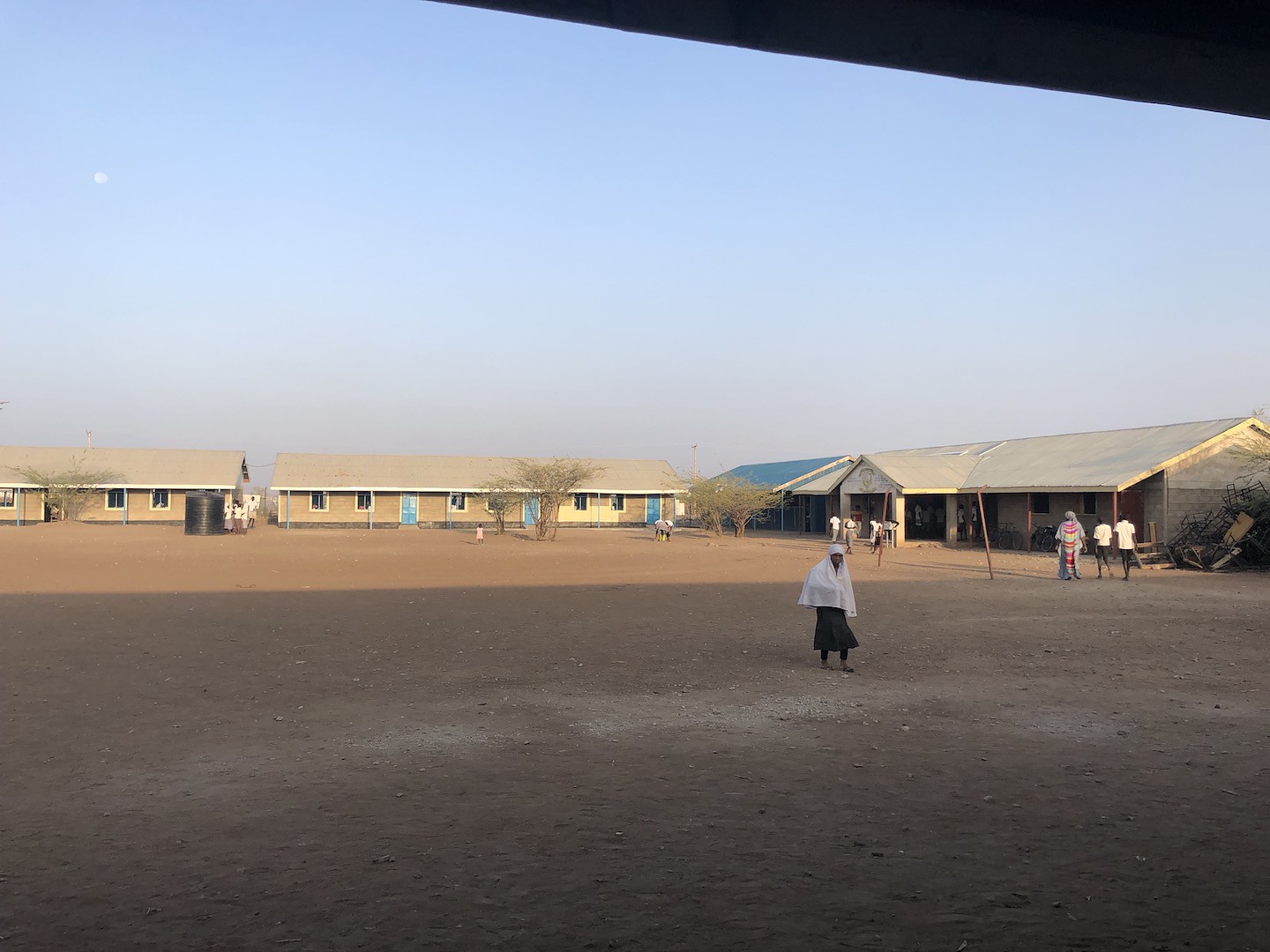 Empowering teachers
Mr Joe says he looks forward to evaluating various strategies used in the class and the school against attendance trends and expressed his enthusiasm for the rollout of the app across the whole school.
"It would be better if we can start using the RISE app around school, for all of us. I strongly believe that once the app is in use, it will have an impact for us and our learners," says Mr Joe.
Having access to attendance metrics means that teachers would be empowered to try new teaching, management and collaboration techniques and see what type of impact they could have on student retention.
 "For the first time, education programs will be able to evaluate the effectiveness of their efforts based on the individual needs of the children in the camp," says Ms Hubner.
The app is scalable to any refugee camp-based school that is running a World Food Programme school meals program globally, and as RISE incorporates support for additional services, the potential for scale is much larger still.
As RISE positions to scale the application broadly, the enterprise's human-centred approach to design is ensuring that the application is addressing the needs of teachers, aid workers and students in ways that ultimately reduce barriers to children's education.
---

RISE was one of seven winners of the MIKTA (Mexico, Indonesia, Korea, Turkey, Australia) Education in Emergencies Challenge, which called for new ideas to improve access to education for children in emergency situations, particularly girls. The challenge was delivered with Australian Aid. Winners were announced in December 2017.
Find out more at https://www.rise-int.org/ or follow RISE on:
Twitter: @RISEIntSF
Facebook/Instagram: @riseintsf
LinkedIn: www.linkedin.com/company/riseintsf